Curry and beer?
When you think of a curry what comes to mind it is a nice cold draught beer. That is the general outlook people have towards Indian curries. But It may come to surprise for some that beer is not the only drink that pairs well with a curry. In fact cocktails can match perfectly with any curry, you just need to know which one to choose according to the ingredients that best go with your food.
Consider cocktail instead…
What about a mojito dashed with a Bacardi or a Love from Delhi with Plymouth and Chambord? Or a mango strawberry daiquiri with rum? Or even our aromatic Lychee Martini with Vodka?
Let's explore in more detail how cocktails can be an out of the ordinary but a very refreshing and delightful choice that can bring out the flavours and cool down the upshot of the spices.
Many cocktails would complement different dishes whether with lamb, chicken, fish and vegetables.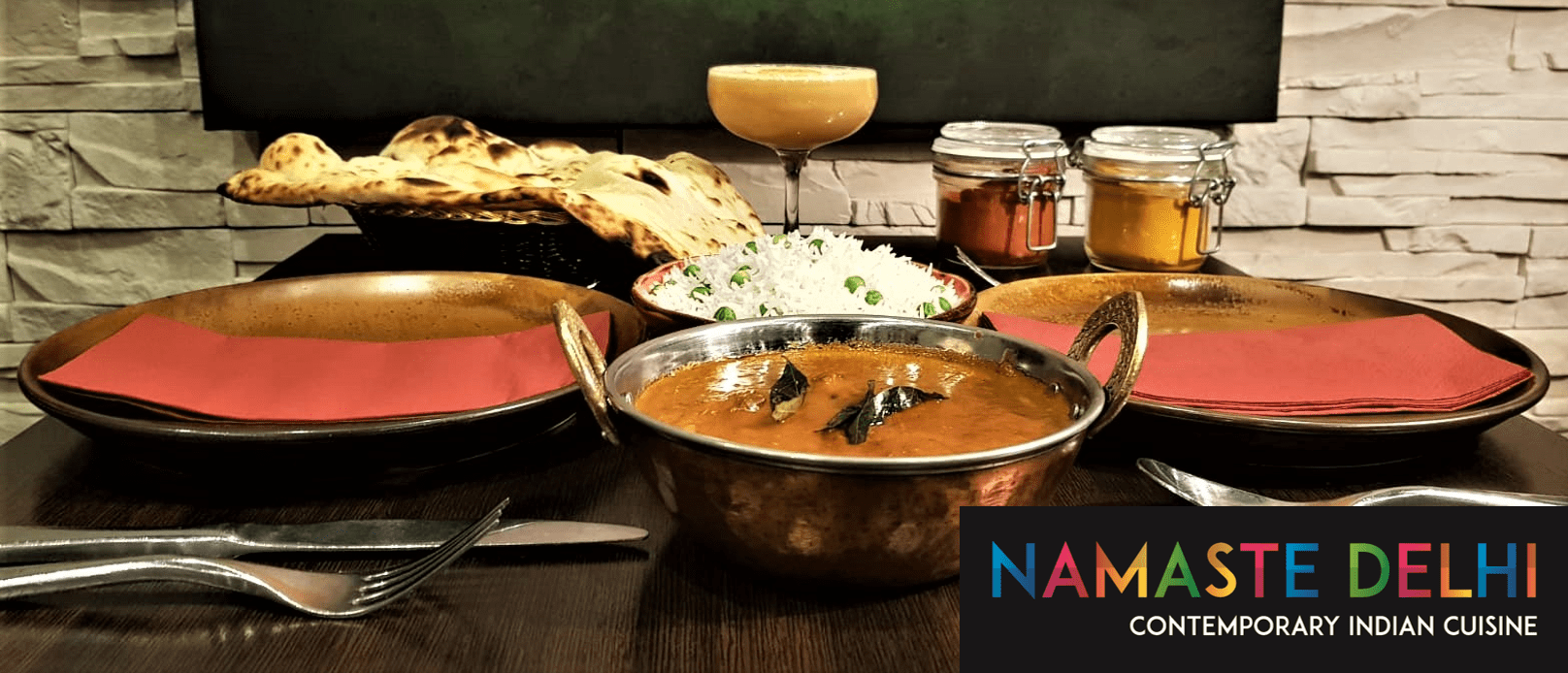 Lamb dishes
Let's start with the meaty lamb dishes. Lamb is full of flavour, it has a robust pastoral rounded taste and it is lightly sweeter than chicken so for these curries we would recommend a rum based cocktail. Why not try a Rajasthani lamb or a Laal Maans or even a keema mutter with our signature Peruka Breeze containing rum and guava juice to refresh your tongue? Or maybe a Mojito with Bacardi Rum, lime and mint leaves to give that subtle relief from the tang? Our Mojitos come with a fruity flavour with a choice of raspberry or strawberry to add that reminiscence of summer in the air, even in the cold snowy winter days. Also a Disaronno would complement a lamb dish perfectly because it has that almondy sweet taste. Ask for a Disaronno Fizz with lemon and soda to our in house mixologist to finish off your meal!
Chicken or fish curries curries with cocktails
And what about chicken? Being quite different from lamb in taste, chicken curries are best coupled with gin and vodka or even a Martini. So you can match our Murgh dishes like Methi Murgh, Murgh curry or a Murgh Qorma with one of our signature Martini cocktails like a French Martini with a dash of High grade Vodka in it.
And what about Indian fish dishes? Our pomfret or a banana leaf wrapped Pollichatu would match with a dry gin or a vodka inspired cocktail, as they would with a Pinot Gris or a Sauvignon Blanc.
Vegetable dishes
Vegetable dishes in India are a staple food with an aromatic basmati rice or a roti or a naan. Lentils like a creamy Daal Makhani or Tadka Daal pair well with tangy cocktails containing ginger ale or take a pindi chole or an aloo gobhi with a gin tonic with mint and lime with a thin slice of ginger.
Our ambitious wine selection…
Apart from cocktails wines are a great match for curries too! For those who are more traditional and not very adventurous, wines represent a great option when it comes to Indian cuisine.
Vegetables can be coupled with an earthy red like pinot noir with a hint of spices. Try our Dal tadka or Dal Makhani or even an aubergine bharta with our Red Pinot Noir from the foothills of the Pyrenees.
Lamb curries or lamb chops are perfectly coupled with robust well-rounded reds like malbec or a shiraz, or a mellow cabernet sauvignon.
Undoubtedly all chicken dishes pair well with a red fruity cabernet sauvignon from Chile which is well combined with all the spicy dishes.
And finally fish…
Fish tapas match with a Belvino pinot grigio rosato slightly dryer in style, full of fresh summer berry fruit aromas, still a nice option from our menu if you like fish. Sauvignon blanc from Chile or a white corte vigna pinot grigio and The Beautiful Lady white from South Africa (gewurztraminer) are exceptionally well paired with Indian style cooked fish and with spicy Asian cuisine in general thanks to their off style.
Whatever item you choose from our mouth-watering menu, we will be happy to advice the best cocktail or wine from our ambitious and extensive selection of drinks.
Welcome to divine dining, only at Namaste Delhi!