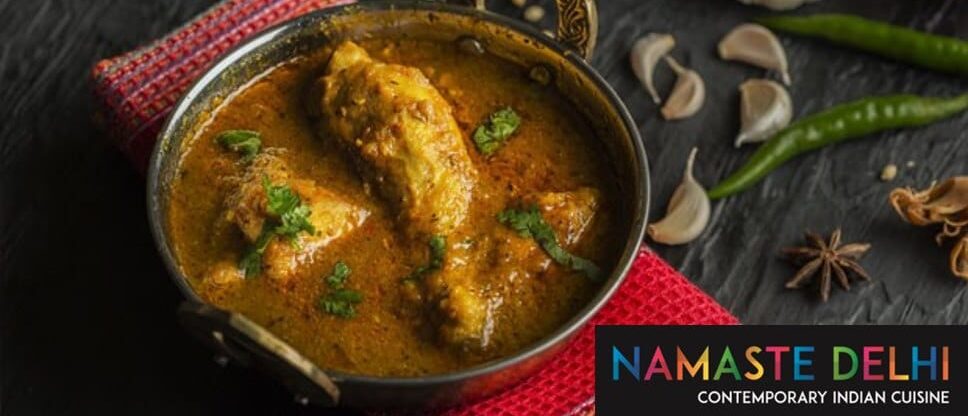 Origins of Delhi Murgh Korma
This is one of the favourite specialties at Namaste Delhi! Creamy and aromatic is one of my favourite Indian dishes.
Finding its roots in the Mughal cuisine,
Murgh Korma
can be traced back to the 16th century and to the Mughal incursions into the region. Kormas were often prepared in the Mughal court kitchens and it is said to have been served to Shah Jahan and his guests at the inauguration of the
Taj Mahal.
Recipe styles
The recipe differs from North to South, although usually the gravy in korma is very mild. For example in northern India the
korma
is a mild yet spicy white curry but in Southern India a korma consists of a tomato based gravy which is very hot and spicy.
Rural Cooking
In the ancient times
Murgh Korma
was cooked using mud pots over a 'chulha' (a mud stove, with wood as fuel, usually found outside the house). Even today, most rural population in India still continues to cook like that but it is not possible in the crowded cities as most people live in buildings, therefore it would not be practical.
At
Namaste Delhi
we have our own signature
Murgh Korma,
best enjoyed with a naan or a rice dish, so order yours tonight and dive in the flavours of India!
Disclaimer: The information provided has been well researched and written from many sources available online and the views provided is not of Namaste Delhi. Namaste Delhi do not take any responsibility for any technical error in the article.