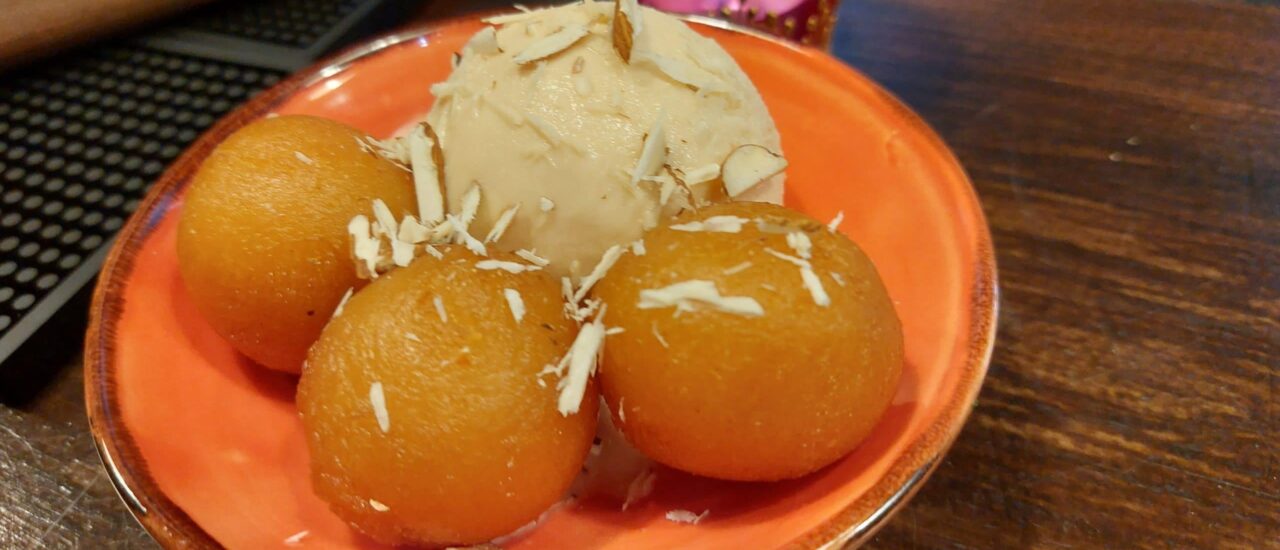 Gulab Jamun
Gulab jamun, queen of sweets
There are heaps of sweets to go round in india at every time of the year: from jalebi, to halwa to modak to soan papdi, these delicacies complete any event perfectly and considering the variety of festivals that india boasts, you will be spoiled with choice.
But among all those, the queen of them all is without a doubt the beloved gulab jamun.
My first memory of gulab jamun is out of this world. I tasted it for the first time during my first journey to india and it has been my favourite indian dessert ever since. Its soft touch against my palate and the cardamom rose taste captured my sweet tooth forever. And I am not generally on the sweet side as I like savoury dishes best!
Gulab jamun is one of the many scrumptious treats that Namaste Delhi has in store for its customers who are eager to satisfy their sweet tooth. It is one of the many delicacies that you can find in india particularly during special occasions like weddings, festivals such as diwali, holi to name but a few.
It is served hot with ice cream to complement the taste and offer that perfect balance between hot and cold.
It is the most loved sweet by indians in india and abroad and not only! It is also very popular in many countries and widely appreciated by other nationalities too.
History of gulab jamun
But where is this delightful sweet originated from? This delicacy that you can commonly find on the shelves in any supermarket today, actually boasts ancient roots that are worth exploring. It is believed that this sweet was originated from persia and then invaded india during the mughal empire.
It is very similar to an arabic dessert named luqmat-al-qadi, which was introduced to india with the invasion of mughal emperors. One of the theories also claims that it was invented by the mughal emperor shah jahan's personal chef.
There are other untold stories surrounding this delicacy but one thing is for certain: these round cheesy balls fried in oil will take over your taste buds and the full flavoured rose or cardamom scent will ravish you at the first bite. It melts in your mouth like fluffy snow and paired with ice cream, it offers the perfect climax to any meal.
The etymology of Gulab Jamun
Where does this name 'Gulab Jamun' come from for this delectable sweet dish? The world 'Gulab' was derived from the Persian word 'gol' and 'ab' which respectively meant flower and water which referred to the rose water scented syrup. "Gulab" also means rose in Hindi which suits perfectly the rose syrup used to cook it. The other word 'Jamun' is the Hindi-Urdu word for the popular Indian fruit Black Plum which is very close in shape and size.
These small cheese balls are dipped into sugar syrup which is flavoured with green cardamom and rose water, kewra or saffron. This is how the most traditional and simple Gulab jamun is prepared. Decide to treat yourself today and come to taste our Gulab Jamun to complete your meal, add ice cream to it and finish with a bang!
Sources:
www.wikipedia.org