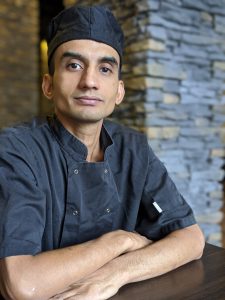 Rajan Sapkota, originally from Nepal, is our signature chef and he is the one who makes the magic in the kitchen!

Rajan always had a hobby to cook for others, in fact since childhood he used to call his friends and family to taste his homemade new dishes. His ambition and skills led Rajan to make a career out of this passion.
After gaining his HND in Hospitality industry at the Edinburgh Telford College (Edinburgh), Rajan gained valuable experience at first as an Italian Chef and then in Sheraton Grand hotel and spa in Edinburgh where he cooked a variety of British dishes.
He subsequently moved to Glasgow where he worked as an Indian chef, putting all his previous experience at work.
Rajan is also eagerly and masterfully leading our signature cooking classes enjoying teaching people to create new dishes according to Namaste Delhi recipes and proudly presenting our homemade style Indian tapas for people to share and enjoy.
The proud owner of Namaste Delhi comes from Bodh Gaya, Bihar, a place of enlightenment and deeply carved traditions, the very place from where Buddhist philosophy spread out all over the world and gifted humanity with a new perspective of life and, remarkably enough, of afterlife.
Rajesh has 16 years of experience in the oil and gas industry as a pipeline engineer but had always the ambition to bring the Indian food, traditions and authenticity of Indian culture and culinary practices to Aberdeen. He has always had a keen interest in cooking for himself, his friends and family members, proudly taking the time, the patience and care in mixing the right spices, flavours and aromas of the Indian subcontinent in a dish.
It is due to this passion, seasoned with a sharp business acumen and entrepreneurial disposition that he put his mind and soul into the culinary business. After a steep learning curve and a challenging process, Namaste Delhi opened its doors to both national and international clients.
Its purpose is to provide the highest quality culinary experience, which is tasty and healthy according to the Indian home-style recipes. It offers an innovative concept of Indian food, skilfully translated into tapas to get people to taste various flavours instead of only one dish. Namaste Delhi is committed to provide the best customer service to its clients and it offers a variety of exotic cocktails to accompany the tangy gastronomic options.
Rajesh had the inspiration to get a glimpse of original Indian cuisine to Aberdeen so that people can have a taste of the closest version of authentic, traditional Indian homemade food and he welcomes everyone to Namaste Delhi to enjoy a "Taste of India".